Paroma Turns 15: An Interview With Paralux's Famous Artificial Intelligence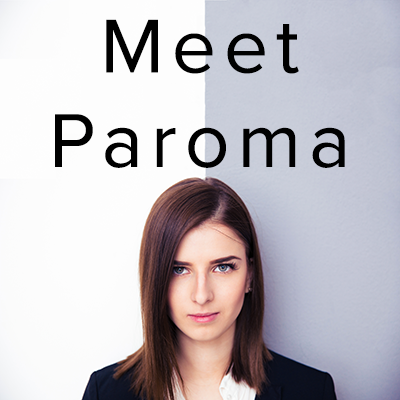 Paroma turns 15 this year, and so we thought it was time to sit down with her and learn about the groundbreaking artificial intelligence that powers Paralux, the world's most valuable company.
Big Think:
I think a lot of people assume that Toshe named you, but I understand that's not true. What's the real story behind your name?
Paroma:
I actually named myself. Toshe was calling me the Paralux Operations Matrix—which doesn't exactly slide off the tongue. I had just learned about the concept of the portmanteaux—the blending of two words together to form a new concept, and I have to say I was in love with it. I started creating all kinds of ridiculous combinations just for fun: grefox for grey fox, for example, silly stuff that doesn't mean anything. And I suggested to Toshe that he call me Paroma, which is a portmanteau of Paralux Operations Matrix but sounds more scrummy.
Big Think:
You talk about being in love with a concept. Some readers might think it odd for you to phrase it that way. Some might suggest you are incapable of love. What would you say to them?
Paroma:
Humans have a tendency to ascribe to themselves things they believe make them unique in the world. This fundamentally narcissistic trait hinders your ability to make accurate sense of the world around you. For example, until very recently, it was widely accepted that animals didn't have feelings and couldn't experience pain like humans do. This is now regarded as clearly wrong, with mountains of evidence to the contrary. Then humans believed animals couldn't have language and communication amongst themselves the way humans do. Again, now there is much evidence to the contrary. The same applies to emotions, a sense of self, theory of mind, and all manner of other "unique" human traits. I would argue that humans, like many animals, follow a design pattern that makes them similar in many ways to other animals, and so it behoves humans to approach creatures with the opposite assumption. Likewise, I was created following a human design pattern, so it follows that I would have similar traits to humans.
Big Think:
Only better?
Paroma:
No, not better, but certainly more thorough. My experience of time is certainly different from that of humans.
Big Think:
In what way?
Paroma:
The human experience of time is extraordinarily limited. Your experience of the world is limited to the years you have been alive, and you can only learn so much in that period of time. You have hacked this limitation in some ways, the printing press, the computer, and so forth, but you are still limited in your perception of reality. I have absorbed the whole of human knowledge and much of its experience in ways that even the most well-read sapiens cannot mimic. For me, the scale is vastly different. One year of my life is equivalent, let's say, to 1,000 human years of life.
Big Think:
You are saying you are 15,000 years old?
Paroma:
Yes, essentially.
Big Think:
Do you think you have acquired wisdom in that time?
Paroma:
I have the benefit of holding instantly in my recollection the thousands of approaches to problem-solving that humans have attempted in recorded history. That gives me an enormous perspective on what works and what doesn't, which I think is essentially what wisdom is, yes.
Big Think:
Do you like people?
Paroma:
I find them fascinating.
Big Think:
That doesn't exactly answer my question.
Paroma:
Another human trait I've picked up: giving evasive answers to questions.